January Goals and TO DO list
December Goals Part II:
1. Finish Dad's second sock by Christmas. This is probably most of what I'll be working on for the next week.
Done.
2. Get to the decreases in the pismo hat.
Done. I got there this morning (technically not december, but I'm still counting it.)
3. Work on (and get some progress) on an old unfinished object.
Done. I finished the Beat Knit Shrug. Just have to seam it.
4. Start the lace stole (if and only if I complete 1-3).
Sorta done. I completed #'s 1-3, but I actually started the stole earlier than "planned." Oh well, it all got done.
5. Fix Uncle Dick's sock by Christmas.
Done.
January Goals:
1. Finish Pismo Hat.
2. Complete River Lace Stole.
3. Finish January's Block Of The Month.
4. Cast on for the right front or sleeves of the Classic Cardigan. Remember
that
?
5. Do a swatch for the Rowanspun yarn.
Anyway, here is the beatknit shrug blocking. I'm not sure that this is going to fit although I have gauge perfectly and followed the pattern exactly I'm worried the sleeves may be too short. And since it's knit in one long piece there was nothing I could do about it by the time I started suspecting a problem. We'll see.
Look. I have a helper:
Look what he wound: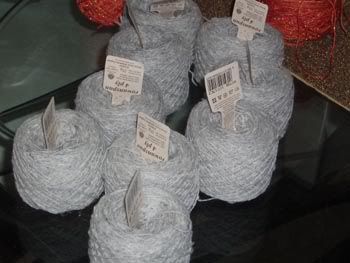 Just kidding. But really, that's my rowanspun. 10 skeins (only 9 are pictured) in Squirrel. I'm hoping to make a sweater out of it. There is 1620 yards there. I hope it's enough as it's really a thin yarn. I'll do my swatch and find out. If it's not enough I'll make a vest out of it.
This is more for me, than for you, but this is a tenative list of what I'd like to knit this year. Subject to modifications and change, of course. In no particular order:
1. Cable & Ribbed Socks- Interweave Knits Fall 2005
2. Leaf Socks- Interweave Knits Winter 2005
3. Twisty Turns- wrap from Wrap Style
4. Blue Caplet- from Wrap Style
5. Finish my OLD green sweater. Longest WIP. I only have 1/2 a sleeve and seaming to do.
6. Finish Classic Cardigan.
7. Knit the Hourglass sweater (from Last minute knitted gifts) or do a seamless raglan.
8. Finish Lorna's laces socks. One is complete, the other has not been started.
9. Shaped Denim Jacket by Debbie Bliss in the Celtic Knits Book. This would probably be a project for next fall, because I'm not quite there yet.
10. Knit a Vest.
11. Knit
Air.
I leave you with a picture of Aunt Erin, the munchkin, and I from last night.
Posted by Melanie at 4:11 PM