MORE???
You better believe it.
This was my find on Elann.com. CHEAP, good wool.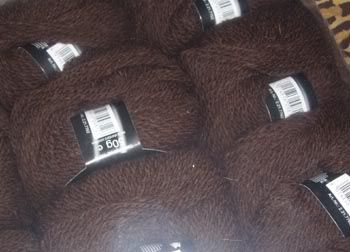 13 balls. Enough to make *the* sweater in Vintage Knits. Too bad my swatch is over by 3/4 of a stitch. No seriously. It's supposed to be 16 sts=4." I got 16.75 stitches to 4." What would you do in this situation. It has cables on it. Would that help or hurt the swatch vs. real size of sweater?
So, um, do you think I need to go on a yarn diet?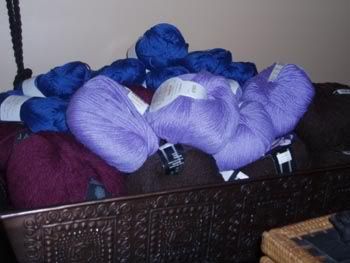 Don't answer until I show you what I got yesterday. Maybe I'll post that tomorrow.
So, um, the boy. Yeah, we definitly went out for a few drinks on Thursday night, and dinner Friday. EH HEM. Cute! ;-)
Posted by Melanie at 4:33 PM