Cardigan
I want to try and post pictures of the cardigan as often as posssible to motivate myself to keep working on it.
Long week at work... cycle count for inventory is tomorrow... so once I put everything back on the shelf that i just took off the shelf (someone please explain the logic to me in that one) on monday then I'll (hopefully) have more time to knit. Zander is going down to his grandma's for a night this weekend so hopefully I"ll have a few hours sunday morning before he comes back home to knit.
Cardigan:
I'm thinking about another 1" or so of ribbing and I'll start the stockinette body.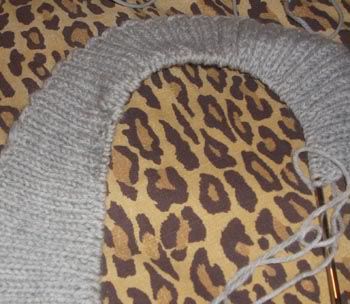 Posted by Melanie at 11:19 PM