Day 1 -- Knitting Olympics
Well, I cast on for my socks last night at 9:45, and knit until lights out at 10pm. At 8:30 tonight this is what I have.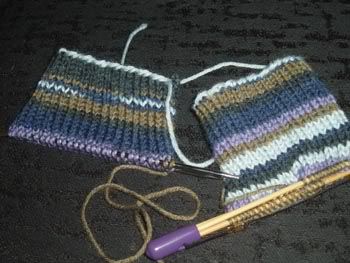 I tried to start at the same place on both skeins but the difference in the two is actually terrifying. But seeing as they are socks I'll continue on. I cast on with the socks on the right last night, and worked on them for quite a while today. I then when to
Knit On
to pick up some addis I had ordered. I ended up getting talked into (quite easily) learning the magic loop method. The shop owner asked if I was participating in the Knitting Olympics. It still amazes me how huge the internet knitting community is. Anyway, I told her I was, and that I was doing a pair of socks. she asked if I had tried the magic loop method... nuff said... I walked out with a 40" size 2 addi and the magic loop book published by fiber trends. Good stuff. I also walked out with two 24" addis-- size 7 and 9. Oh yeah, and 6 skeins of cascade 220 in grey. I don't want to talk about that. ;o)
So anyway, you can see that I am not doing the cable and rib socks as originially planned. I couldn't get gauge. So I just cast on with a simple 2x1 rib. It's still a challenge... especially if the sock that is being knit with the magic loops continues to unimpress me with it's striping. We'll see.
I hope to be able to update daily with at least a picture... we'll also see how that goes.
Posted by Melanie at 8:22 PM