Day 2- Knitter Down!
Here was progress at 12:00pm today. I really wanted to get a natural light photo to show off the colors of this yarn, because last night's picture was crappy.
So here: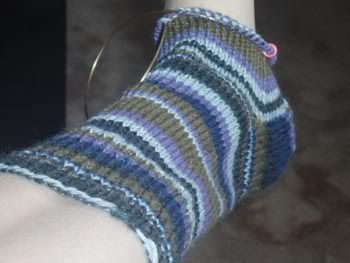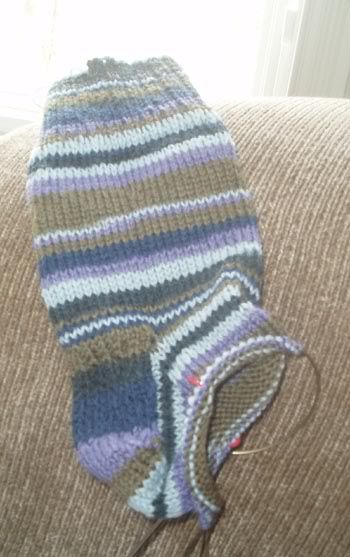 I love that it's so much easier to try on socks when knitting with the magic loop method. And, I just LOVE the magic loop method in general. I was a little nervous about the heel flap, turning the heel, and the gusset, but it went smoothly.
I am encountering a slight problem though. My left wrist has begun hurting. Badly. Is it because I knit for so long yesterday and quite a while today, or is this the beginning of a bigger problem? It hurts right where the hand meets the arm, on the top, in the center. I took an aleve. It didn't help. So what do I do? I swear NO ONE better say "stop knitting!" Do I wear a brace? put heat? ice? someone who has experience with this please help.
Anyway, I feel good about where I am. I don't get much time to knit on the weekends, so if I finish up this sock this week, and get past the gusset on the 2nd sock next weekend then that will give me the final weekend to finish in case anything shocking happens (like overtime. Oh wait... overtime isn't shocking. The lack of overtime would be shocking.)
Hope everyone else is doing well on their quest!
Posted by Melanie at 7:19 PM