Day 3- Taking it easy
Not too much typing... wrist is still hurting which was made worse by working in the shipping department today and dealing with inventory. I will be working in shipping on Tuesday & Friday also... so i will be taking it easy with the knitting this week. This is not a big deal (I don't think) as this is my progress: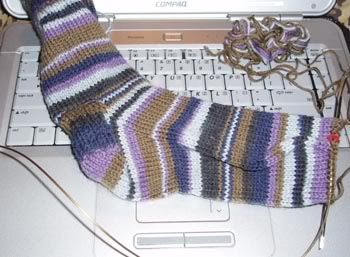 I have started the toe decreases. I probably have about 10 more rows/rounds to do.
I think I can mangage that this week and still stay on target. MUST GET GOLD OLYMPIC BUTTON!
Have I mentioned I LOVE the magic loop method??
Goodnight.
P.S. Thanks for the comments about my wrist. I refuse to STOP knitting, but I will take it easy and I will wear the brace they gave me at work today to use in the shipping department and i will take anti-inflamitories. I'll pray for the best and hope that it goes away on it's own. :o)
Posted by Melanie at 9:24 PM