Day 5- Challenge or No Challenge
Here is the second cuff a few hours ago.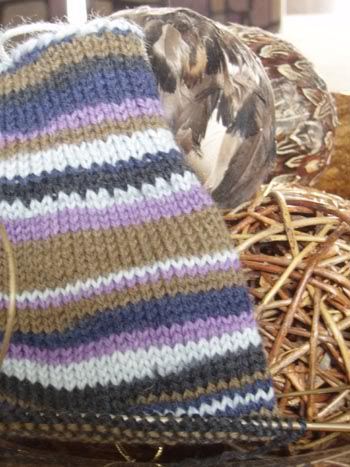 I just started the heel flap about an hour ago.. I hope to turn the heel before I go to bed.
I started wondering a few days ago if this was truly a challenge or not. Whether I wimped out. So I started looking back.
Normally I only make time to knit for about 20-30 minutes a day, and now that I'm a working, single mom, and student I don't think much of it if a day goes by where I don't knit. But I am making a conscious effort to knit every day. And it's WONDERFUL!
And I decided I'm also challenging myself because I learned a new method. Magic Loop. So this was definitly a challenge and I shouldn't feel back that I stepped up up the plate and am kicking some OLYMPIC ASS!!!
By the way, thanks everybody for the wrist wishes. It is doing better, although still weak. I've been taking it easy, being consicious of how I am moving my wrist. I've been bracing it at work as I'm constantly working with my hands so I think that is helping.
Posted by Melanie at 8:06 PM