Day 6- Recipient Change
So these socks WERE for me. They were a little big. I was okay with that. Big roomy socks for my boots. Can't beat that. Then my mom tried them on. They fit perfectly. Hmph. Guess they're not for me. I'm going to pick up a US 1 40" addi tomorrow on my way to work, so I can start another pair of socks. Besides, a reason to buy more needles. Yeah, twist my arm. :o)
So, I'm getting close to completion: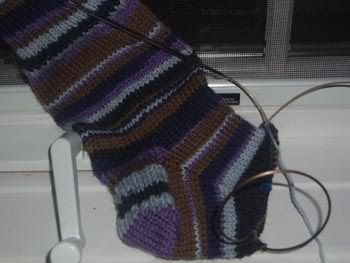 Add about an inch to that... this picture was taken this morning before the sun was even up.
So anyway, I'm thinking about my next project(s) now.
I bought 6 skeins of casscade 220 in a light grey last week. That's enough for YET ANOTHER sweater. I'm making a cardigan. Probably raglan, and simple. I need a grey cardigan to wear over shirts to work (I never know if it will be hot or cold) and I NEED to knit a sweater from beginning to end to justify the thousands of yards of yarn in my closet designated to sweaters. I'm also going to knit another pair of socks with the magic loop method. I have lorna's laces socks to complete. Maybe I'll switch those from my DPNs to magic loop. Have I mentioned how much I love the magic loop method yet??
Posted by Melanie at 8:55 PM