Day 7- Temptation
MUST. RESIST. URGE. TO. CAST. ON. WITH....Yummy.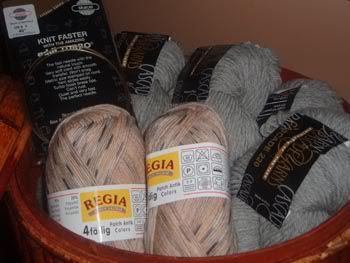 That's my 6 skeins of Casscade 220 for my next project, 2 balls of Regia 4 ply in color # , and a US 1 40" addi. I read somewhere that Addi size 1 is equivilant to a US 1.5. But the mm is the same (2.5) so could someone clear that up for me? Because I should TOTALLY finish my lorna's laces anklet (#2 of 2)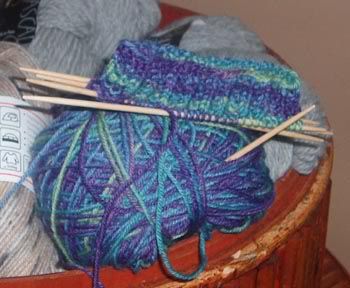 But In all honesty... it will be really hard. I should tell myself... it is JUST an anklet, and that I only wear a size 7, so my feet aren't that big. It should go quickly.
By the way. Ask me what purpose there was in me buying 2 more balls of regia anyway? I have AT LEAST 6 balls in the closet (and two sock books on the way from Amazon.) If you haven't knit with it yet though, please do... it's rather soft for being only 5 dollars each.
Oh yeah, and the olympic socks? I totally didn't take a picture today and I'm way too lazy to get out of the comfort of my bed to do it... so just pretend I did. I'm hoping I can finish the sock by the time girls night begins on Sunday night. That way, I can knit on something different while we watch movies eat junk food and bitch about work. At least there are lots of cute guys we can talk about. :o) And I'm hoping maybe I can punch the desire in one of those three to want to learn to knit. I could totally use a knitting buddy around here.
As a closure... here is a picture the little Z-man took Wednesday. He was trying to take a picture of me knitting. :o)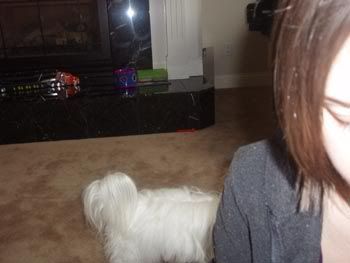 He obviously has my camera skills. Can't win them all, can we?
Posted by Melanie at 11:12 PM