My Childless Week
There was actually not much knitting done during my childless week last week. I did however do too much drinking, and a stayed out a little too late every night. But it was nice. To not have to find a babysitter or inconvience a family member is such a good feeling that I was truly able to relax and have fun with my friends.
The exchange of Zander from Mommy to Daddy went better than I could have imagined. Zander was excited to see his father (although painfully shy) and the excitement Nick portrayed almost put me in tears. Okay, I did tear up-- I had to walk away for a minute and fiddle with zander's suitcases until I could collect myself.
Nick was great about calling and telling me what Zander had been up to, how he was sleeping, etc. Zander was having so much fun that he didn't even want to be bothered with talking to me on the phone until Thursday.
As we all know, friday was St. Patty's Day. My sister and our friends lived it up at Jack Quinn's Irish Pub in Covington, Kentucky. What a good time!
Um, yeah, that's water in my cup. You got it!
I wonder if we realized we were holding our drinks up like that. Dorks.
That's me, Chris, my sister (Erin), and her boyfriend Sean.-- Our friend Chris played the bagpipes at the pub. He was amazing. And his shirt won first prize in my book: "I'm the Irishman your mother warned you about."
Then, as far as knitting. I cast off my river lace stole. No, I didn't finish it. I grew bored of it. It was a lace project. I felt semi- successful at it. The reason I say semi is because I found several mistakes while stretching it out and admiring it this week that I decided. "Okay, lesson learned." And cast off. I will block it and then maybe put it in a picture frame to display in my apartment. (Come on apartment... we need an apartment.)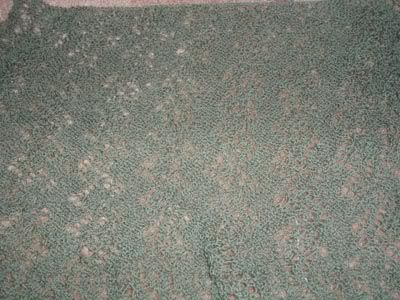 I made very little progress of my sweater. The first sleeve is underway still. I'm not even an inch into it. I hate 2x2 ribbing on DPNs, so as soon as I get past that part it will hopefully be smooth sailing.
Finally, after casting off the lace "stole" I cast back on for the home sweet home memories shawl from Knitpicks. With sock weight yarn and size 5 needles this project should be a little easier to detect mistakes while still giving me practice with lace techniques.
That's all from here.
Posted by Melanie at 9:12 AM