She Still Knits...
... on occassion.
Here is the home sweet home shawl I've been working on. Besides a sock, I have been truly loyal to it.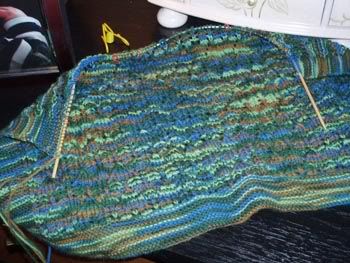 Even though I am knitting from two balls of yarn I am noticing pooling in the pictures. (I didn't notice it until I took the pictures.) So I guess I'll throw in a third ball to use. I am still enjoying this pattern. It is hard to see because of the lace, but it actually makes little houses. It is quite a charming pattern.
I haven't shown my little guy lately, so I thought I'd take a moment to do that.
Here he is on Easter.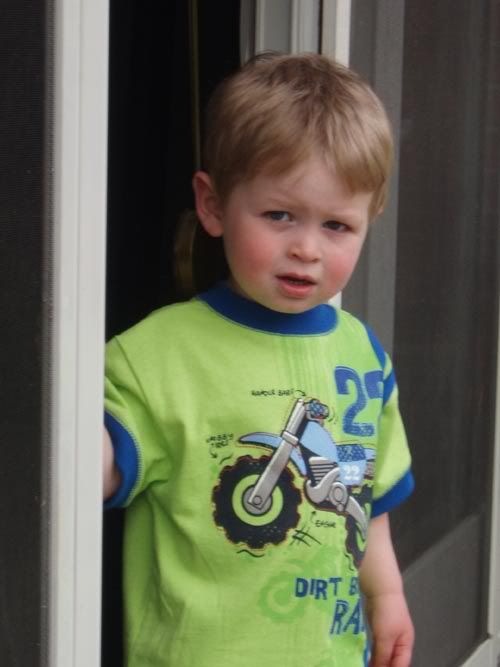 Well, I got a promotion about a week ago! :-) To what is called the "SunRX" department. It's a desk job with NORMAL hours. I work from 9-530 (We won't mention that I haven't left at 530 yet... we'll let that overtime thing just slip by. ha ha) as opposed to the 11-830 shift I was working. It's so beautiful and "normal" that I don't know what to do with myself.
Zander got tubes last week, it has done wonders for his speech and hearing already. I'm quite thrilled about it. Of course, we are now going through a major "no" phase... which is just absouletly like running nails down a chalk board. I've had enough with him saying it.
I'm still at my folks house. All the sudden school got busy, zander had his pre operation appointments, nick was planning to come in town and the whole promotion thing happened. I am definitly ready to go but am now beginning to think of buying a condo as opposing to throwing money away on rent. There are some really neat/inexpensive condos, and since the money for the down payment is in the bank, there's no reason to do otherwise, right?
How is everybody else doing?
Posted by Melanie at 11:16 AM