As the Heel Turns
Okay, so that's corney... I'm reaching with the creativity tonight.
But the heel has been turned. A Finished Object might be in my near future.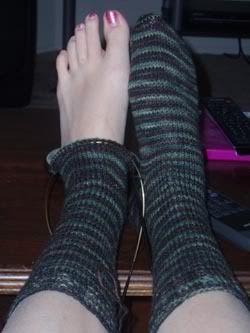 yay. When I was at my mom's house today I forgot to pick up my grey cardigan. Maybe I'll swing by there on my way home from work tomorrow and pick it up because I'm really looking forward to getting back on that and getting it ready for fall wearing.
On the September 11th note-- am I the only one that doesn't want to watch this stuff on TV today? I guess it sounds inconsiderate, or maybe it's just that I'm in that generation. I remember CLEARLY every moment of my day on September 11, 2001. It's all very fresh. I don't need hyped up news casts (or movies) to remind me. Am I the only one that feels this way? Am I a bitch?
Posted by Melanie at 9:04 PM