Mittens, Shawls, and Storage
Possible yarn for the mittens. I am going to try and use stash yarn so what about these color combinations? Any suggestions?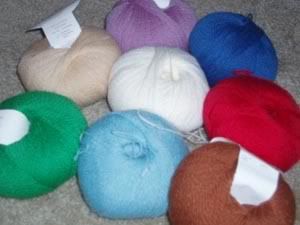 We all know I love brown and blue so I was thinking maybe the tan and bright blue or the light blue and dark brown. Yay? Nay?
Here's an udate on the shawl. I've just finished the 24th repeat. I don't think I'm going to get it done before my mom leaves for Hawaii, but I'm am itching to complete it so that I can move onto other things!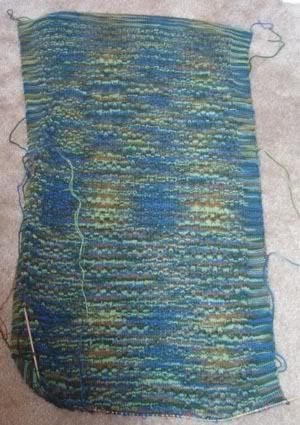 It is about 24" wide and 50" long at this point. Blocking is going to do WONDERS for this shawl.
I am knitting from two skeins of yarn to help with pooling but when I see it on a computer screen I can see that it's not really helping much. I suppose the pooling could be worse. I hate that about verigated yarn!
When I lived at my parents house I had beautiful shelving built into my closet. It made for perfect yarn storage. I am not as fortunate at the apartment. Right now I've got 2 boxes and one large knitting bag full of yarn. I intend to get some see through rubbermaid containers for my yarn this weekend. When thinking of containers and north star mittens and double pointed needles I thought of my mess of DPN's and got a lightbulb. I'm probably not the only one that's ever had this idea, but look how beautifully it works: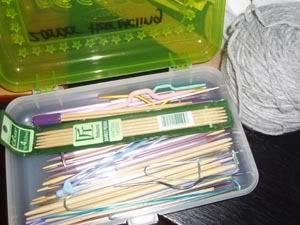 Next step is to buy some of those teeny plastic rubberbands to rubberband the sizes together. BRILIIANT!
Didn't realize I had so many DPNs either. Also found a 40" size 0 and a 24" size 9 addi. YAY!!!
Posted by Melanie at 5:54 PM