Thomas and Cammy Socks
Today Zander and I went to see Thomas the Train and take a ride in it. Here's us in the train: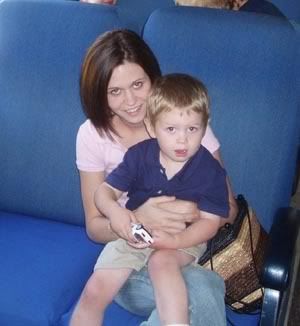 Look how big he's getting. :-)
I also finished my socks on the way up there.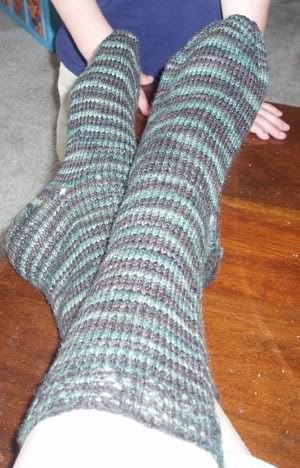 It was my first time doing the short row heels, and I really like them except I ended up with small holes on both feet by the gussets. Anybody know how to fix that?
I also learned that I need to keep better notes of my knitting. The right foot (which I completed first) I decreased on every row at the toe, instead of every other row. The left foot I decreased every other row. It had been so long since I had finished the first sock (end of may) that I didn't remember or notice that I had done that. So now the right foot fits better than the left.
Lesson learned.
Stats:
What: Cammy Striped Socks
Started: Early May 2006
Completed: Saturday, September 16, 2006
Yarn: Bernat sock yarn.
Needles: US2 addis, 40"
Lesson: See Above
Recipient: Me me me me.
Knitting time: I have no idea... I didn't time this project.
Now what? My home sweet home shawl.
My sis informed me the other night that she would like a pair of socks. No problem, I say. Bright colors she requests. No problem again I say. "I want to wear them when I'm riding." By riding, she means while riding her horse. Do you know those boots are below the knee boots!? They're tall!!!
So I got the Socks on Two Circs book and 600 yards of Paton's kroy in Color 54701, Krazy Stripes.

So, I was really hoping this socks on two circs book would also tell you how to do two socks at one time. I guess it would be similar to knitting two sleeves at one time? Just cast on for one sock, then get another ball of yarn to cast on for another sock? Someone help. I got the last 3 balls of their yarn in this color so I'd really like to be able to knit them both at the same time so that they are the exact same size and so that if I run out of yarn I'll run out at the same place and be able to substitute another yarn at the bottom of both toes. Make sense?
Man. Knee high socks... That's ambitious. I'm crazy!
I will still find time to finish at least one of my cardigans that I have on the needles at some point this year. I'm determined!!!
Posted by Melanie at 8:24 PM