Weak Pathetic Progress
Here we go... since I picked up the knitting a week ago this is what I've manage to accomplish.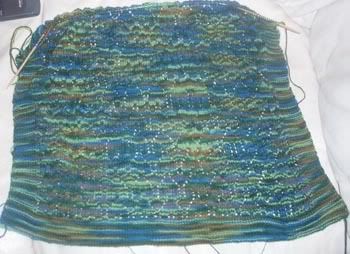 Last time I posted a picture of it it looked like this: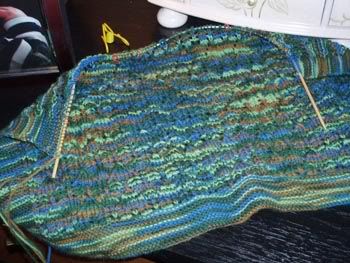 It doesn't look like too much, but if you look closely at the first picture in the middle of the rows at the bottom you can sort of see the little houses that are created with the lace.
I really like the pattern, it's challenging enough to keep me interested but yet simple enough that I can watch TV while knitting. And lace with sock weight yarn is much easier to keep track of. I'm not sure how I feel about the yarn. (
Memories
from Knit picks. Color Fly Fishing.)
I do like the yarn... it's pleasant to knit with and blue greens and browns are definitly my favorite. They will match well in my house, but varigated yarn for lace probably wasn't the most brilliant idea.
Oh well. I think it will still look stunning drapped across the back of my couch. (IF i ever get it done.) There are 34 repeats of 14 rows, and each repeat takes me about 1 hour and 5 minutes. I'm about 11 repeats in and I just don't feel like it will ever end.
Posted by Melanie at 11:27 AM