Finished Object -- Grey Cardigan
It is done. I will get a better picture and add it to this post this week sometime.
Until then... here is the same picture from right below.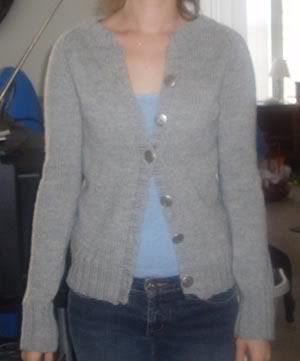 Here are the stats.
What:
Grey Raglan Cardigan from
Ann Bud's Book of Sweater Patterns
. I thoroughly enjoy this book. And am certain I'll use it again. It has EVERY size you can imagine in it. I do wish it had shaping included in the patterns, but I'll just have to get brave and try my own shaping on the next one.
Started:
Wednesday, February 22, 2006
Finished:
Saturday, October 21, 2006
Yarn:
Cascade 220- a little more than 5 skeins. I really like this yarn and can't wait to use it again. It is VERY VERY warm. Slightly scratchy next to the skin, but not intolerable.
Needles:
size 7 addis- 24" & size 7 bamboo DPNs for sleeves.
Lesson:
It is my first completed garmet. I see that my finishing skills need practice, but am quite satisfied being as it's my first one. I even wore the sweater all day yesterday and I'm certain that I will wear it often. That, to me, is considered a success. The amount of satisfaction I had when I held it up after it's full completion was absolutely overwhelming. I think I have turned into a garmet knitter.
Recipient:
Me.
Knitting Time:
23 hours 5 minutes
Pattern Changes:
I changed the sleeves. There is no increasing, as I like my sleeves to either be belled or straight. My shoulders are not very big so I didn't want it pooching.
Well, what do you think?
Posted by Melanie at 9:35 AM