Home Sweet Home Shawl
The shawl has been blocked and the ends have been woven in.
Here is the completed shawl before blocking: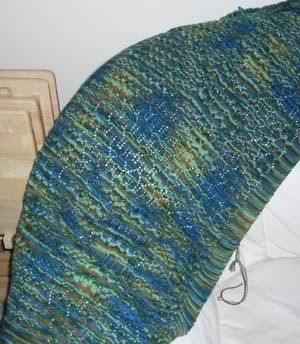 And after blocking:
It still amazes me what blocking does for knitting. Especially lace. This home sweet home shawl is especially meaningful to me. It's sitting in my new home. The home I had waited a long time for. The home that is truly mine.
Anyway, here are the stats:
What: Home Sweet Home Shawl
Started: Tuesday, March 21, 2006
Finished: Wednesday, October 18, 2006
Yarn: Sock Memories in fly fishing. 5.5 skeins; I really like this yarn and can't wait to use it again.
Needles: size 5 clover bamboo
Lesson: First sucessful lace project. YAY!!! I'm ready to try lace weight yarn again. I really got a lot of fundementals down with knitting this lace project.
Recipient: Mine. All Mine.
Knitting Time: 35 Hours and 54 minutes. So roughly 36 hours.
Pattern Changes. I did 28 repeates instead of 35 as written. I'm tiny. It didn't need to be as long as it was written for.
Posted by Melanie at 2:50 PM