New Projects
So I casted off the home sweet home shawl. It still looks like a hunk of tangled yarn, so I'll block it before posting more pictures. So one sweater is blocking waiting for it's collar and button bands. So since I feel like I've casted off a whole bunch of projects. (okay 1 and a half) that I needed to get things to start 2 more. HA!
Look at the haul from today.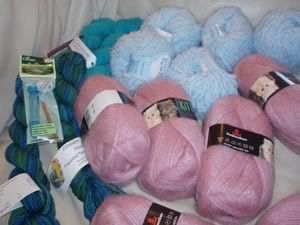 The 4 hanks of blues on the left and the blue chibi is for my secret pal. I might share more about that later, but we'll keep a bit of mystery to it for now.
The blue at the top right is plymouth yarn's "Heaven." It's 100% nylon, but is sooo soft and machine washable. It's going to be a blanket for a girl at work who's expecting in December.
The pink is Kitten Mohair by SandesGarn. I felt like I needed pink in my stash. Of course, it's not really IN my stash as I've already cast on for the
hourglass sweater
from Last Minute Knitted Gifts.
So, regarding the post below... what about an icord collar for the cardigan... just give it a finished edge? Or maybe a crocheted edge would be more suiting? Of course, I don't know how to crochet, but I have heard that that collars can be crocheted on? Ha ha, am I an idiot... I have no idea, but I just keep looking at it on the floor as it's drying and I just love the neck the way it is.
Posted by Melanie at 5:40 PM