Reinbeck and Sleeves
The sleeves for the hourglass sweater are coming right along. I am just above the elbows. I can't wait to see what this yarn looks like after a good blocking. It's a bit wrinkled (for lack of a better word) right now.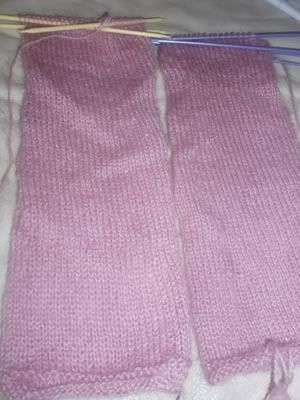 I have been completely ignoring my 2nd October goal of starting on Erin's Knee High socks. I've certainly been thinking about them though. I'd love to knit them both at the same time on two circs, but am thinking that with the amount of yarn I need vs what I have that I should really knit them toe up. I've never done that either. So we're looking at two new methods. That's a little intimidating to me. So I picked up two sets of size 2 DPNs and I think I'll use
MJ's
method of knitting them at the same time. Toe up. I need to start those this weekend while the little guy is at his dad's. So hopefully I'll have progress to show you later besides the same pink sweater! :-)
Everyone going to Rhinebeck: Have SOOO much fun. Buy lots of yarn, take lots of pictures. Even though I've never gone I have such a great time reading about everyone elses adventures there. It's some of my favorite blog reading.
I need to find a local knitter who will travel with me next year! :-) Maybe I should start going to knit at nights at the lys. At least until school begins next semester and my time is not my own.
Have a great weekend everyone.
Posted by Melanie at 9:28 AM